Insurance continues to be the PZU Group's core business despite constant evolution, organic growth and acquisitions. The core business model based on effective sales channels and efficient claims handling functions in their midst.
The PZU Group offers insurance in Poland, Lithuania and Ukraine (life and non-life insurance), as well as in Latvia and Estonia (non-life insurance).
Clients and products
The PZU Group has a comprehensive product offer spanning life and non-life insurance for 16 million clients in Poland. They are retail clients, sole proprietors, small and medium enterprises and large corporates. The PZU Group enjoys the trust of 1.2 million clients in the Baltic States and Ukraine.
Non-life insurance is offered in Poland under three brands: PZU, the traditional and most well-known brand, LINK4 associated with direct sales channels and TUW PZUW, the brand under which the mutual insurance company does business. SECTION 3.2 NON-LIFE INSURANCE Life insurance is sold in Poland under the PZU brand. SECTION 3.3 LIFE INSURANCE International insurance activity is conducted under the brand of Lietuvos Draudimas in Lithuania, under the Balta brand in Latvia and under the PZU brand in Ukrainie and Estonia. SECTION 3.6 INTERNATIONAL OPERATIONS.
The PZU Group's insurance offer in Poland is complemented by an extensive range of investment products - open and closed-end mutual fund products and pension products - open-end pension fund, individual retirement security accounts with a voluntary pension fund, employee pension plans, individual retirement accounts (IKE) and individual retirement security accounts (IKZE). The Group offers investment solutions customized to the needs of all types of investors. In October 2018 the inPZU platform was launched. It enables clients to invest on their own in passive funds, which is an innovation on the Polish market. Two investment paths are available on inPZU: for beginning investors who can use the "Helper" and the expert path where the client will unilaterally build his or her own investment portfolio by selecting among 6 index funds, ranging from the safest ones to equity funds.
Distribution channels
PZU's sales network is organized in a manner that ensures sales effectiveness along with high quality services. Among all the Polish insurers PZU offers its clients the largest sales and service network. It has 411 branches with convenient access across the country (with 189 in small communities) and tied agents, multiagencies, insurance brokers and electronic distribution channels.
At yearend 2018, the PZU Group's distribution network included the following:
tied agents – in Poland the PZU Group's own agency network consisted of 9.1 thousand tied agents and agencies. Sales are conducted through the agency channel predominantly in the mass client segment, particularly of motor and non-life insurance as well as individual insurance (life insurance). In the Baltic states (the PZU Group is active on the non-life insurance market in Lithuania, Latvia and Estonia through Lietuvos Draudimas, AAS Balta and Lietuvos Draudimas' PZU Estonia branch, respectively, while on the life insurance market it is active through PZU Lietuva GD), the Group's agency network consisted of approx. 1 thousand agents, while in Ukraine (where PZU is active on the non-life insurance market and on the life insurance market through PZU Ukraine and PZU Ukraine Life, respectively) it had roughly 700 agents;
multiagencies – more than 3 thousand of them cooperate with the PZU Group on the Polish insurance market. They perform sales operations targeted mainly at the mass market (insurance of all types is sold through this channel, especially motor insurance and non-life insurance as well as individual life insurance). In turn, in the Baltic States Group companies cooperate with 33 multiagencies and in Ukraine with 14 multiagencies;
insurance brokers – in Poland, the Group, in particular PZU's Corporate Client Division, cooperated with almost 1 thousand insurance brokers. In the Baltic states where the brokerage channel is a major insurance distribution channel, the Group companies cooperated with over 390 brokers, whereas Ukrainian companies cooperated with more than 30 brokers;
bancassurance and strategic partnership – in protective insurance, in 2018 the PZU Group cooperated in Poland with 13 banks in particular Pekao and Alior Bank and 21 strategic partners. The PZU Group's business partners are leaders in their industries with client bases offering enormous potential. In strategic partnership, cooperation applied mostly to companies operating in the telecom and power sectors through which insurance for electronic equipment and assistance services was offered. In the Baltic states, PZU cooperated with 5 banks and 14 strategic partners. In Ukraine, the respective numbers were 7 banks and 8 strategic partners.
For you and your family
Life
We have health care for you and your relatives. We help you when you have an accident or fall ill. We give financial support to your family in important and tough times.
Non-life, travel, TPL
We take care not just of your home but of all your assets. We also protect you and your health. We provide support if you encounter unexpected problems when traveling – in Poland or abroad. You can rely on us if you or your relatives accidentally hurt someone else.
Investments and savings
We offer a host of investment and savings opportunities. You can grow your capital with us in mutual funds and secure additional funds for retirement. You can also choose savings solutions combined with life cover.
Claims and benefits handling
Find a branch and an agent
For clients, claims handling is the 'moment of truth' when the quality of the product purchased from an insurer is tested. Satisfying client expectations during the claim handling/ case handling process is the key to building PZU's client relationships. For this reason, the PZU Group took a number of measures in 2018 to streamline and shorten this process. More than 85% of the simple benefits are handled on the day they are reported.
In 2018 PZU started a new internet service to report claims and benefits. This service complies with the philosophy of using simple language, while its usage of intuitive graphics and images makes it user friendly and easy to grasp. Since it is suitable for mobile devices, it can be used anywhere. When reporting a case clients fill out only the data which PZU does not have. Clients receive an automatically calculated proposal of the indemnity payment in motor and property claims. These changes have shortened the time it takes to record a claim from 15 to 5 minutes. The new tool to report claims and benefits has also been made available for use by Contact Center employees. That means that registration through our information line takes less time, thereby considerably enhancing the quality of service.
For companies and employees
Employee life and health
Gain a competitive edge on the labor market. Offer insurance cover to your employees. Give them and yourself some support in difficult situations (e.g. in sickness, after an accident or in the event of a relative's death). Also tend to health prevention.
Property and TPL insurance for companies
We support large corporates, small and medium enterprises and farms. We insure their property and care for their employees. We also lend a helping hand in tough circumstances related to practicing a profession.
Corporate finance and investments
We offer insurance and financial instruments to enable you to invest conveniently and safely and grow your capital. We will help you care for an additional pension for your employees. In turn, thanks to numerous insurance guarantees we care for the financial security of your company and your business partners.
In Poland, claims and benefits handling is carried out in competence centers operating across the country. It is founded predominantly on electronic information and is not tied to
the insured's place of residence or the insurable event. The competence centers handle specific types of damage, which is conducive to stricter specialization and boosts client satisfaction. These units specialize, without limitation, in handling claims arising from property, motor or personal damage, claims reported by corporate clients, benefits, damage involving in the theft of personal vehicles or claims handled as part of the direct claims handling (DCH) service. A separate unit deals with technical issues related to claims arising from motor or property damage. A similar claims handling model is in place at PZU Estonia where there are 3 competence centers. Centralized among them is only the handling of certain types of damage, such as personal injuries, large property damages and marine damages. In other Group companies operating in the Baltic states and Ukraine, the claims and benefits handling process is entirely centralized.
PZU has a Relationship Manager who stays in contact with the injured party for the duration of the claims handling process. That person's assignment is not only to collect the documents needed to take a position on the claim in question, but also to convey information to clients about the stage of service.
PZU has accelerated the process of determining the amount of damages by introducing new forms of determining the extent of a loss. On top of conducting a vehicle inspection in a fixed inspection point, through a Mobile Motor Expert in a venue chosen by a client or in a Repair Network workshop, the quantum of the loss may be determined under a simplified service procedure (without conducting a vehicle inspection), self-service (calculation of the amount of the loss on your own) or video inspection (using an app to determine the amount of the loss). A Video Inspection is an option offered to clients as of April 2018 as an alternative form of conducting an inspection of vehicles and other damaged items and determining the amount of the benefit due in claims handled under motor and property insurance. PZU is recording greater and greater interest among clients in this form of determining the amount of the loss.
To meet client expectations PZU supports handling the entire claims handling process with the use of a smart phone. With a smart phone injured parties may report a loss, summon Assistance on the roadside or from home, initiate the repair process in a Repair Network workshop, conduct a video inspection and determine the amount of the loss. Only the final stage in the claims handling process, i.e. determining the amount of the indemnity and disbursement belongs to PZU in this process.
In 2018 PZU modified and simplified the form for clients to initiate claims self-service rolled out in 2017. Presently, the claims self-service is triggered at the time of reporting a claim. In accident insurance claims or benefits, the client may freely accept or reject the proposed amount of the benefit. In motor and property damage and in centers repairing devices damaged by a power surge, the client may also, prior to making a decision, assess on his or her own in a few steps the amount of indemnification payable. This information is then forwarded online to the Relationship Manager who executes the payment. This service allows clients to participate in the payout decision in a simple and convenient manner and accelerates the process itself by reducing the waiting time for the disbursement of the benefit. Satisfaction surveys carried out among PZU clients reveal the fact that insureds are of a very favorable opinion about this service. PZU companies in the Baltic States are rolling out similar improvements.
On top of accelerating the process of determining the amount of the loss PZU has undertaken efforts to speed up the payment of the indemnity by introducing robotics elements at the stage
of summarizing the claims notification and making the claims decision. Robotics are used in specific types of claims.
PZU was the pioneer in DCH (Direct Claims Handling) on the Polish insurance market. Currently, DCH is executed in two forms: at an individual level or under the agreement worked out by PIU. DCH is offered by entities accounting for nearly 70% of the motor TPL insurance market, as measured by gross written premium. The said agreement, which is based on a lump-sum approach, has dramatically simplified the settlement of claim payments between insurers. PZU also maintained its own DCH solution previously introduced for clients injured by insureds in establishments that did not sign the agreement. In Estonia, direct claims handling has been regulated by the provisions of the TPL Insurance Act since the beginning of 2015. In turn, clients in Latvia who wish to take advantage of DCH must purchase a rider on their insurance.
PZU has built the largest network of centers in Poland that arrange replacement vehicle rental services and roadside assistance services. A network of centers offering these services is also being developed in the Baltic States. Currently, clients of Lietuvos Draudimas in Lithuania and the Lietuvos Draudimas branch in Estonia may benefit from replacement vehicle rental services and roadside assistance services. Moreover, since 2015, Lietuvos Draudimas as the only insurer in Lithuania has been arranging such services for holders of TPL insurance.
2018 was another year of cooperation with repair shops in the area of post-accident vehicle repairs in countries covered by the PZU Group's insurance business. PZU has created Poland's largest network of cooperating repair shops enabling the Company to control the quality and speed of service already at the claim handling stage. Every client who orders a repair in the PZU Pomoc repair network receives a Quality Certificate guaranteeing that the repair has been performed in accordance with the highest standards. PZU is refining its proposal to assist clients in managing damage remains by selling them on the Online Assistance platform. Clients are presented with a proposal to sell their damage remains for the highest purchase offer obtained from reliable entities that cooperate regularly with the platform administrator (a similar solution is also available to clients of the Estonian Lietuvos Draudimas branch).
PZU keeps working on improving communication with its clients. Traditional letters are being replaced by electronic and telephone forms of contact. Moreover, efforts are being made to adapt all communication, e-mails and text messages for clients to the principles of a simple language so that the information provided to the clients is clear and comprehensible.
Visualizing distinct case handling stages in the form of an Online Case/Claim Status report available to the Group's clients in Poland is a great convenience to clients. By logging into the www.pzu.pl website and stating the claim/case number, clients may find out in exactly how many steps PZU will carry out the claim handling process, what it will involve, what the current stage of the case is and what has already been done. Also available on www.pzu.pl are video tips on how to handle the claim online. Short videos featuring PZU employees explain to clients how to report a case in a few simple steps and then how to check the status of the case or how to take advantage of the accident insurance policy in case of an accident.
An unrivaled solution supporting the handling of personal injuries under TPL insurance is the group of Organizers of Assistance for Accident Victims. These are mobile members of staff who visit accident victims directly in their homes to determine the actual standard of living of the victim and in consultation with the victim assess his/her needs arising from the accident for which PZU is liable under TPL insurance. For severely injured accident victims, PZU Client Relationship Managers arrange a broad array of medical, social and occupational rehabilitation and psychological support. Injured parties have the option of obtaining treatment and rehabilitation in medical centers applying modern technologies. Persons who have become disabled as a result of an accident are given advice on how to adapt the closest environment to their needs, how to properly select devices that compensate for dysfunctions and disability and receive support in terms of their return to the open labor market. The most severely injured children are provided with comprehensive and long-term psychological support to mitigate the adverse consequences of post-traumatic stress. PZU Relationship Managers also explain to accident victims the rights they have and what documents they should produce.
Efforts have been continued under the property pre-claims handling procedure introduced in 2017. It entails initiation of contact with a client who has been injured in a chance event, i.e. after a gas explosion. Within the scope of measures taken in this process PZU contacted 65 clients who received a proposal of utilizing assistance services in line with the type of event that had occurred. 12 claims were registered. Each contact generated a positive client response. Pre-service garnered special recognition in the contact center industry – this project won the Golden Handset 2018 prize in the competition organized by the Polish Marketing Association under the category of Excellent Client Communication.
In 2018 PZU invested in new drone technology entailing visual material processing. A professional DIJ Matrice 200 drone, a training drone and drone flight simulators were purchased. Presently, 6 people in PZU hold UAVO certification (Unmanned Aerial Vehicle Operator) issued by the Civilian Aviation Authority (CAA). These certificates are issued after passing a state examination preceded by specialist training. PZU's aviation personnel is doing additional training using sophisticated simulators. The first aviation missions using a drone outfitted with photo/video and infrared cameras are slated to take place in the spring of 2019. Ultimately, drones will be employed to obtain photo and video documentation regarding property claims. Generating 3D models will facilitate more extensive analysis of the site and object of the claim. This will be a big step on the path to further optimization of the processes to ascertain the causes and scopes of claims, especially catastrophic claims, or of large magnitude in buildings, structures, industrial facilities and power lines.
For several years PZU has been analyzing the options for utilizing aviation and satellite photos in the claims handling process regarding crops. The remote sensing method was implemented in the spring of 2018 for practical claims handling regarding the consequences of severe ground frost. Remote sensing makes it possible to obtain information concerning facilities or areas from a distance (remotely), most frequently by using sensors installed on aircraft or satellites facilitating the measurement of reflected and emitted radiation. The Normalized Difference Vegetation Index, or NDVI is a highly popular and effective method used in agriculture. It uses the measurement of reflected light in the near-infrared spectrum and its absorption in the red channel. NDVI is correlated with the biological processes taking place in plants whereby it is possible to define its developmental state and condition. This information is widely used to forecast crop yields.
Handling claims caused by the consequences of severe ground frost involves a determination of whether the damaged plantation has a minimal proliferation of plants guaranteeing a crop yield at an economically justified level.
The claims handling methodology devised by PZU's employees in the spring of 2018 based on remote sensor imaging was used in claims handling on area of approximately 10 thousand square kilometers. The second phase of the measures undertaken in 2018 concerned underwriting the risk related to entering into insurance for the damages caused by the effects of severe ground frost. This phase was conducted in the autumn and pertained to an area of approximately 17 thousand square kilometers. The major advantage given by remote sensor methods is the sourcing of data for the entire are of the insured crops. The remote sensor method features objectivity and makes it possible to source the data required to calculate the indemnity quickly for a large geographical area. PZU is working on utilizing satellite pictures in crop claims handling processes. This methodology is subject to constant improvements and there are plans to utilize it on a broader scale.
In 2018 innovative solutions in property claims were implemented. Jointly with the Allegro brand PZU has given clients who hold insurance for the contents of their homes an offer whereby they can replace their television set with a new receiver if it is damaged as a result of a power surge. The details of this process were prepared in such a way so that the client's participation in the actions related to claims handling would be curtailed to a minimum, i.e. reporting the event and selecting an offer for the delivery of a new device from among the several offers proposed by Allegro. The chief objective was to minimize the severity of the loss sustained by clients so that they can enjoy the usage of a new receiver as soon as possible. These efforts have been met with interest and a positive reception among clients.
The Service Scenario for Property Claims is another innovative solution PZU introduced in 2018. In the handling of water damage claims under PZU Dom insurance clients have the option to obtain PZU's assistance in finding a craftsman who will proceed to repair the client's loss within several days. This means that clients do not have to rifle through announcements to find a suitable craftsman. PZU is the one responsible for designating a Repair Shop and will pay for the costs of renovation and construction work. It is purely a voluntary decision to take advantage of the Service Scenario for Property Claims. In every situation clients may select the conventional method of claims handling and receive the indemnity on the bank account they designate. At the same time, using this innovative solution to repair a loss to a structure does not suspend the payout of the indemnity due for household contents and other insured objects.
An invariably significant area of operation in claims and benefits handling is the prevention of insurance fraud. PZU constantly improves solutions to curtail the payment of undue benefits, hinder practices of clients counterfeiting documentation filed during the submission of a claim or statements regarding their health status and purport to simplify many processes. In 2018 support was extended to identify undue payments of claims and benefits by incorporating a Fraud Management System (FMS) when examining non-life insurance claims. Contracts were signed to procure services involving the audit of electronic registers of post-accident vehicle traction and sourcing documents and information from international entities.
Innovations

Innovations, digitalization and development of new technologies are processes that have been in progress for years in all the sectors of the economy. By rolling out many new solutions companies are gaining an ability to transform their strategy, business model and client, partner and employee experience. PZU grasps how new technologies are changing the insurance industry. In recent years, the PZU Group has been very active in implementing innovative solutions. Activities in this area are supported by the Innovation Laboratory – a unit created with a view to verifying the latest technological trends and testing new solutions across the organization. Modern solutions are being created both internally and in cooperation with the best start-up companies in the respective fields. The first projects have already been distinguished in domestic and international competitions (e.g. the Insurance Innovation of the Month prize and the Innovation in Insurance 2018 prize conferred by EFMA, an international organization, for the I Sign project, the Golden Handset prize for the Pre-Service project and the distinction in a competition organized by The Digital Insurer for the PZU GO project).
Innovative solutions are also collected internally using the Idea Generator, a portal to administer competitions and share inspirations among employees. In 2018, more than 300 ideas were submitted under 4 competitions.
In November 2018, the first year passed since the time when the PZU Management Board adopted the Innovation Strategy developed by the Innovation Laboratory. Its purpose is to help pursue the PZU Group's mission and strategy and maintain the high level of competitiveness in the new technological environment. The Strategy points to three specific areas in which PZU should be especially active while seeking innovation: the use of Big Data, digitalization and new interactions with clients. The designated areas ascribed the direction to be taken by 15 pilot projects organized in cooperation with the Innovation Laboratory, the relevant business departments and IT. They made it possible to vet the ideas and prepare the first implementations, i.e.:
PZU GO – the first telematic solution of its type in Europe whose purpose is to enhance drivers' safety. A mobile app combined with a small beacon device makes it possible to place a call automatically for assistance in the event of a collision or accident;
Data Lab - PZU Group's analytical environment to experiment using large data files, fast design and testing of analytical hypotheses in cooperation with business and IT.
Artificial Intelligence in Claims Handling - using solutions predicated on Artificial Intelligence technology in processes involving claims and benefits handling;
Pre-Claims Handling Service - process involving PZU making initial contact with an injured party, even before that party reports a claim. This project applies to property claims and it aims to improve satisfaction with client service and augment the insurer's proactive client-centric and modern image;
Semantic analysis of documentation - utilization of a sophisticated analysis of semantic expressions to extract information from scans of documents.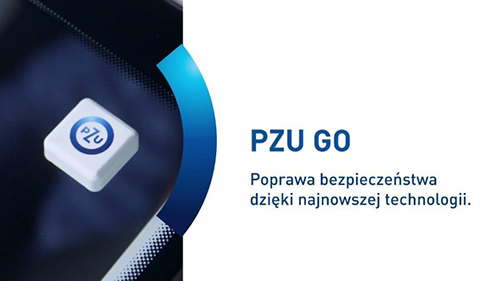 In 2018 PZU started to collaborate with two startup accelerators: MIT Enterprise Forum Poland and Alior Bank (RBL_Start). The former one looked for solutions related to 3 key areas specified in PZU's strategy. The latter one focused on open banking and the PSD2 Directive, i.e. Payment Services Directive 2 (Directive of the European Parliament and of the Council (EU) on payment services in the internal market) SECTION 5.4 BANKING. The solutions put forward under these programs enjoyed interest from selected business areas and some of them are already undergoing tests in the organization. Having noted the initial editions' satisfactory results the decision was made to continue cooperation with accelerator programs for startups.
In 2018 PZU continued working on the moje.pzu.pl service, a self-service platform for retail clients. This platform is constantly refining the scope of its functionalities and the services available there. In November 2018 a landmark implementation transpired in the project: two services operating separately were merged and new elements were appended: presentation of renewal offers (also including ones prepared by an agent), fast track to purchase PZU Dom insurance, medical background information to make a preliminary online diagnosis of someone's state of health, purchase of a doctor's visit / test from outside the scope of insurance for yourself and your family members and the availability of an investment offer on inPZU.pl.

Link4 is the Group brand that has long been known for its innovative approach to motor insurance. On the Polish market the Company is running a number of innovative projects to distinguish the company and position it among the top modern and digital insurers.
In 2018 one of the main innovative projects in Link4 was the deployment of Robotic Process Automation, i.e. RPA technology. This solution imitates human work and is capable in simple tasks of fully assisting employees in their daily tasks. That means employees can do more interesting and more development-focused tasks offering greater business value to the company.
The company's culture of innovation is an extremely important aspect that forges the generation of new and interesting projects and ideas. In mid 2018 Link4 held its first internal conference entitled Link4Future addressed to all its employees. The purpose of this conference was to show and familiarize employees with the most fascinating trends, events and technologies from around the world, especially from non-insurance industries. Keynote speakers from outside Link4 were invited to attend the conference. The event's success and its positive reception among employees led to writing this event into the company's event calendar on a permanent basis.
The company employs telematic solutions to enhance safety on Polish roads. For every motor policy purchased, it offers a free NaviExpert navigation service to its clients whereby it analyzes a driver's driving style. Another year of the functioning of the telematic program called "Cash Back" made it possible to improve analytical algorithms and the mechanics used to reward drivers. Link4 rewards people whose driving style it considers to be smooth and safe – the reward is in the form of Polish zloty accumulated on a client's account. At the end of the policy term drivers can receive a payout of this amount or apply it to lower the premium for a new policy. In 2018 safe drivers collected a total of more than PLN 1 million while the person who broke all records obtained a refund of PLN 1,200. In addition, the program's highly pronounced impact on renewal of policies is observable. The renewal rate is several times higher than among portfolio clients who do not have the telematic program.

Areas to which alerts were most frequently directed in 2018 broken down by weather phenomena

In conjunction with the stronger presence of meteorological phenomena (such as wind storms, tornadoes, torrential rain, storms and blizzards), Link4 and Skywarn Poland - Polish Storm Hunters have given clients holding real estate insurance access to a weather alert system. In the event of expected sudden and severe weather phenomena clients receive a text message containing a warning and a website link where they can read about how to protect themselves against the adverse consequences of various weather events. The reception of this service has been positive with fewer than 1% of clients discontinuing it has inclined the firm to make this service available in 2019 to motor insurance clients. Weather warnings taken into account when planning a car trip may exert a measurable contribution to enhancing road safety and reducing the number of accidents.
To track on a continual basis trends, changes and new developments in innovation Link4 constantly cooperates with trend watchers and the startup community. In 2018 Link4 partnered with the insurtech path in the accelerator program organized by MIT Enterprise Forum Poland. After the program ended the company began to cooperate with two startups through pilot projects.
In Q4 2018 Link4 introduced new payment solutions. It deployed two innovative payment solutions on the insurance market. Clients can use their card to remit payment in the agency channel by using the Tubapay solution. In turn, at the end of the year, the BLIK payment system, which has been attracting more and more users was added to the possible forms of payment.

The PZU Group has the potential of creating innovations also for the industry. The activities in this respect are conducted under the PZU LAB brand. The Company has been consistently executing the Group's strategy, delivering innovative solutions and supporting corporate clients in optimizing risk in their business.
PZU LAB engineers cooperate with clients at all stages of their operations and offer a broad range of solutions and consulting and training services and services based on innovative technologies, custom-made to the enterprise's individual needs. The Company supports clients in the area of safe enterprise management, reduction of financial losses associated with contingencies and stoppages, and building the reputation of a trusted partner in the local and international market.
PZU LAB cooperates with university centers, state institutions and engineering offices within the framework of partner groups and research councils.
From the beginning of the company's operations, PZU LAB experts have helped over 200 clients to mitigate risks associated with their business, implementing, among others, such projects as self-learning company, anti-drone, artificial intelligence and enterprise safety tool (ESTools).
The ESTools system, developed by PZU LAB together with its technological partner F@BE (FABE Safety Factory) under an acceleration program, serves to increase and maintain safety in industrial plants using modern technical measures and organization management methods. The system supports ongoing control of insurance audit orders. Installed in the insured enterprises, it ensures control scheduling and configuration of execution requirements (including a list of controlled elements and the methods of control of individual element types). The control comprises measurements, tests and inspections, as well as verification of correctness of fulfillment of organizational requirements. Each control is planned, executed and evidenced using GNSS (Global Navigation Satellite Systems). The system has implemented functions for mapping the course of the route planned in the map of the analyzed area, spatial and temporal location of the user and the controlled infrastructure (RFID (Radio-frequency identification) support), spatial and temporal location of the measurements and time synchronization.
The key benefits from the deployment of the system include: significant improvement of compliance with the qualitative or procedural recommendations and the quality and speed of the remedial decisions made, prevention of degradation of the facility's safety layers, and thus reduction of the risk of catastrophes which may cause serious human injuries, serious damage to buildings, machinery and materials or serious environmental damage, not to mention the damage to the image, as well as obtaining access to audit data and tools for analyzing them.
Artificial intelligence solutions implemented by PZU LAB used for failure prediction are another example of risk management innovations. They make it possible to detect irregularities in the operation of machines, going back as much as tens of hours earlier than the existing systems. This has paramount importance especially for complicated industrial installations (such as, for example, turbines) because it makes it possible to avoid damages and losses in the range of tens of millions of zlotys.
PZU LAB has highly qualified engineering staff in the area of thermovisual measurements, holding the international ITC Level 1 (Infrared Training Center) certificate. Thermovisual measurements are performed by practitioner engineers with established theoretical background in infrared measurement techniques. PZU LAB engineers also have industry-specific regarding operation and measurement of power facilities and mechanical systems. Based on the audit, the client receives a thermovisual report accompanied by thermograms. Each identified defect or thermal anomaly has its description and status classified according to a simple and legible scale. The status provides information about the severity of the defect. Thermovision is a tool for managing risk in the enterprise.
One of the latest PZU LAB initiatives is a study program entitled "Risk management in the enterprise in the insurance aspect" launched in September 2018 together with the Business School of the Warsaw University of Technology. During studies, risk managers in a business, agents, brokers and students have an opportunity to absorb a huge amount of practical knowledge on risk management, the role of insurance and deployment of state-of-the-art technologies. Lectures and case studies are presented by outstanding professionals combining theory with practice, who on a daily basis work on the point of contact of the world science, business, institutions and engineering offices. During the classes, also PZU LAB experts share their expertise on risk assessment and optimization in industry.
On 1 October 2018, in Gietrzwałd, the PZU LAB Day was held – an event devoted to safety management in business, where PZU LAB not only talked about but also showed how to efficiently manage risk in enterprises. The conference was attended by representatives of companies from a number of industries, including the power, fuel and mining industry, who work on a daily basis with the corporate client division of PZU, PZU LAB and TUW PZUW. Demonstrations of practical solutions for the industry, organized outside the lecture room, in the form of live shows, were an interesting element of the event.
Conference participants had the opportunity to see how safe and effective water mist can be in extinguishing fires. In some cases, water only intensifies the fire and causes huge damage due to flooding. Often as much as 80% of the fire damage is caused not by fire but by the water used to extinguish it. Participants found out that even more damage can be caused by the use of powder fire extinguishers used in each office. As a result of their use, electronic equipment within the radius of 10 meters is no good for use. Apart from that, the powder has very corrosive properties, which contributes to additional damage. Water mist not only extinguishes fire effectively and quickly, but practically does not cause any additional damage.
The guests were even more interested in the demonstration of the possibilities of a professional film drone, the demonstrations of Eagles FPV sports drones and the Ctrl+Sky anti-drone system presented by PZU LAB's technological partner, Advanced Protection Systems. The guests could see live on the screens how the system detects and tracks flying objects which entered the facility uninvited. Everyone could see the specialized equipment and the mini command center located in a site vehicle used to control and neutralize threats.
During the conference a strategic cybersecurity cooperation agreement between PZU LAB and NASK SA was signed. Its aim is to ensure cooperation on improvement of security of the Polish industry's IT infrastructure. Clients will receive not only support in enterprise risk management and adaptation of the security levels to the requirements of insurance and financial institutions in Poland and abroad, but also comprehensive technological support in designing and implementing state-of-the-art technological solutions in the area of IT/OT system cybersecurity.