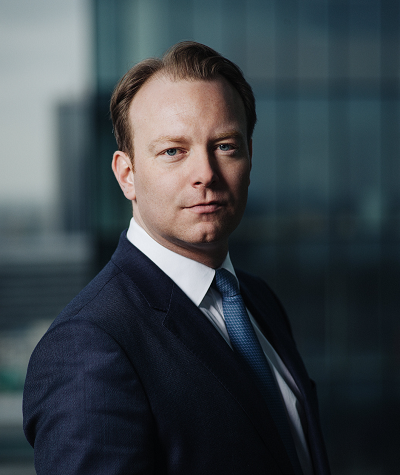 Dear Shareholders,
On behalf of the Management Boards of the PZU Group companies, I hereby convey to you our activity report for 2018.
Last year, economic conditions on the global capital markets were challenging for investors. High volatility returned to the financial markets. Positive sentiments persisted only at the outset of the year, riding the wave of optimism from 2017 when the main indices of the Polish stock exchange rose by more than 20%. This situation changed on 23 January 2018, when the WIG index, shadowing the rise in global risk appetite, reached its historic high of 67.5 thousand points. The rest of the year, however, was dominated by substantially grimmer sentiments on the Polish market. At the end of 2018, the WIG index had fallen by 9.5% y/y. Its performance was comparable to that on the main trading floors in Europe and the US. In this uninviting environment, PZU's shares rose by 4.1% and, considering the value of dividends paid, the rate of return for shareholders was 10.1%. This demonstrates the great strength and potential accumulated under the PZU brand, on the economic side of the business and the total shareholder rate alike.
Earnings per share rose by 11% to PLN 3.72 in 2018. That was the effect of unwaveringly implementing our strategy entitled "The New PZU – More Than Insurance" adopted by the Management Board in early 2018. I am glad that we have been able to grow within the framework of this value creation model and augment our investment appeal by offering a strong dividend stream to our shareholders.
In 2018, our unquestionable success was generating an above-average return on equity of 22.1%, nearly double the average posted by insurance companies in Europe. Compared to 2017, this ratio improved by 1.1 percentage points, while sales at the same time rose PLN 623 million. This excellent result was driven largely by good performance on our core insurance business. The combined ratio was 86.6% improving by 2.7 percentage points from 2017, emphasizing the Group's high quality sales and its optimum pricing policy matching the risks involved. Other contributing factors included good weather conditions and KNF's active oversight over the adequacy of pricing policies applied by insurance companies. 2018 was also another successful year for the group insurance segment with the operating margin remaining at the high level of 22.1%, or 2.1 percentage points above the level in our strategy.
According to the strategy, the PZU Group is developing its health, investment and banking areas. In 2018 we placed the bar very high for our competitors, setting trends, deploying innovative solutions and consolidating our position on the markets where we operate. Even now, we can use our broadly defined digital resources to adjust our offering quickly, reaching clients with value proposals based on top quality services.
The digitization process will also bring more products available via the Internet. In 2018, the www.pzu.pl portal changed radically. Now you can conveniently use it on your smartphone, report a claim, make an appointment with an agent or buy an insurance policy. In addition, the #myPZU (moje.pzu.pl) Internet platform has been launched, offering a broad range of services, including the ability to purchase and service of insurance products, book a doctor appointment and medical tests and access to TFI PZU's investment offering. The inPZU platform is an innovative transaction tool enabling retail and institutional clients to purchase units of passive mutual funds directly. While these funds are very popular across the globe, they are still considered a novelty in Poland. Our solution is a pioneering one. We offer a product that is well-suited to client needs, affluence and capabilities with the management fee being a mere 0.5%, with a comparable average for actively managed Polish funds in the range of 3%. Building competences in low-cost investments is another step towards Employee Capital Schemes to be launched in July 2019.
Thanks to economies of scale, scope of operations and many millions of clients, PZU is bound to be a key player in this market.
We understand that today's world of finance built a digital model also involves potentially stronger competition for us posed by innovative fintechs and startups. That is why we emphasize the use of new technologies in the PZU Group. In 2018, we executed 15 pilot projects in data use, digitization of processes and client interactions. We tested telematic solutions, advanced analytics in routing and semantic OCR. In parallel, we cooperated with startups, acting as a partner in two startup acceleration programs – RBL_Start (Alior Bank's accelerator) and the MIT Enterprise Forum. We cooperated with the embassies of France, Israel and the United Kingdom, universities (AGH) and organizations integrating business communities focused around innovative activities.
In 2019, we will run more pilot projects, intensifying work to identify technologies (telematics, remote sensors, electromobility, driving autonomy and solutions harnessing the internet of things), from the perspective of using them in more business processes in PZU. Our ambition is to analyze at least several thousand such solutions per annum. At the same time, we remain focused on pursuing our strategic ambitions. These include maintaining the high profitability of our core underwriting activity on a competitive market and in the face of rapidly evolving regulatory changes, development of economies of scale in health and investments and intensification of cooperation in bancassurance. Over 200 years of tradition obligate us to continue to look for solutions and pursue our mission of helping clients take care of their future.
I would like to thank all our employees and agents for their above average commitment to building the #newPZU and the Supervisory Board for their trust and effective cooperation.
Respectfully,
Paweł Surówka,
CEO of PZU